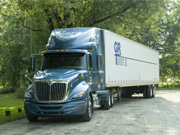 Grand Rapids Transport Inc.
Ph. 800.333.3694
Fx. 616.669.9193


Equipment of Grand Rapids Transport
Grand Rapids Transport's tractor fleet is carefully maintained at 3 years of service or newer to provide safe, reliable equipment in the best possible condition.
Our International Pro Star Tractors feature a 72" High Rise Sleeper and are trimmed with the "Eagle Package" for the ultimate in comfort and satisfaction. Every unit is equipped with an eco-friendly electric APU, mini fridge, and a power inverter that is capable of hosting all your electronic needs from a microwave to an entertainment system.
Our food grade fleet of trailers includes both 53' Straight Frame Dry Vans that are built in 2011 or newer, and high volume 53' Drop Deck Vans* that are always 10 years or newer. All Grand Rapids Transport trailers are equipped with air ride suspension, logistics posts, scuff liners, scratch guards, and swing doors. For more information about our Drop Deck Vans, please click on the link at the bottom of the page.